As part of its ongoing investment and development, Forward Solutions has extended its services with a new ground-breaking digital supply chain management product.
The leading technology provider (previously known as Forward Computers) has launched Forward Vision – a web-based portal allowing customers of Forward Office users to manage their entire supply chain, from purchase order to delivery.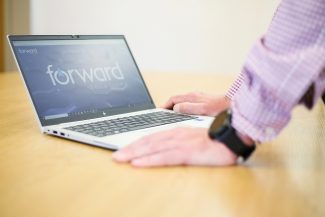 Forward Solutions is one of the foremost suppliers of software to the multimodal sector, providing specialist IT systems for leading players across air freight, sea freight, road freight and rail freight.
The Forward team is led by logistics specialists with technology expertise, so understand the operational challenges faced by freight operators. Therefore, extending into the wider supply chain was a natural progression.  The new product was developed in partnership with Ceedbox Ltd and is a highly intuitive digital supply chain platform that provides real time control and processing of transactions, offering complete end-to-end visibility.
The creation of the new product means that for the first time Forward Solutions' operators will be able to offer their own customer true visibility within their own supply chain.  The system offers dashboards and detailed reports that will monitor required KPIs and ultimately offer greater ability to meet delivery targets and more transparent communication, reducing errors.
Forward Solutions' Managing Director Richard Litchfield comments "Following the huge pressures caused by the Covid pandemic there has been a massive growth in the need for more effective supply chain management.  Goods need to be successfully managed, stored and dispatched. Efficient and effective management of all these business functions is critical for any successful freight operator today."
This new highly intuitive front end solution Forward Vision meets the rapidly growing need for digital platforms that can provide fast and UpToDate management information, providing instant access to all elements of the client's supply chain.  Forward Vision's insights means that customers can track, analyse, and provide real time data.
Richard added "The last 18 months has driven the need and expectation for highly powered data so that freight operators can offer the best service for their customers.  This is the first time we've been able to provide a total end-to-end supply chain management from purchase order to delivery on one platform.  The new product is highly intuitive, ensuring training is minimal. Those who have seen the solution are already beginning to roll it out to their own customers."
This is the latest ambitious step from the firm who recently announced half a million-pound investment in redeveloping and reengineering its product portfolio. Forward Solutions is developing an additional User Interface (UI) to utilise the existing feature rich solution which will be rolled out in 2022.
Forward is one of the longest established freight software development companies, providing end-to-end solutions for a wide range of operators in the UK, Europe, Asia and the US.
Forward Solutions is also revamping the presentation of its Forward Office software to a suite of eight products designed to meet different customer needs.  Packages now start from a Forward Core – essential services package with additions such as integrated customs clearance, mobile apps and API integration.